Dental implants are a great way to restore your smile and build back your confidence. If you're self-conscious about any missing or cracked teeth, dental implants are a solution you should consider. But it's important to educate yourself first.
Like any surgical procedure, there are risks involved in dental implantation. It's crucial that you're aware of all the steps involved in the process so that you aren't surprised or caught off guard. This will ensure that you have the smoothest and most comfortable procedure possible.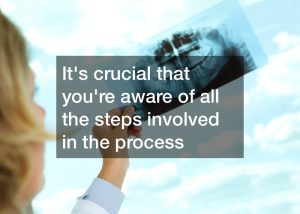 The first stage of a dental implant procedure is to place the implant post in the jawbone. This usually happens under a local anesthetic to reduce pain and discomfort for the patient. Prior to your appointment, you will have discussed pain relief options with your dentist or oral surgeon and devised a plan that works best for you.
The second stage of the process occurs between three and eight months after the post was installed. In this stage, the implant will be exposed and evaluated.
For a more detailed description of the steps involved in the process, watch this informative video. Then you can make an educated decision on whether or not a dental implant procedure can benefit you.